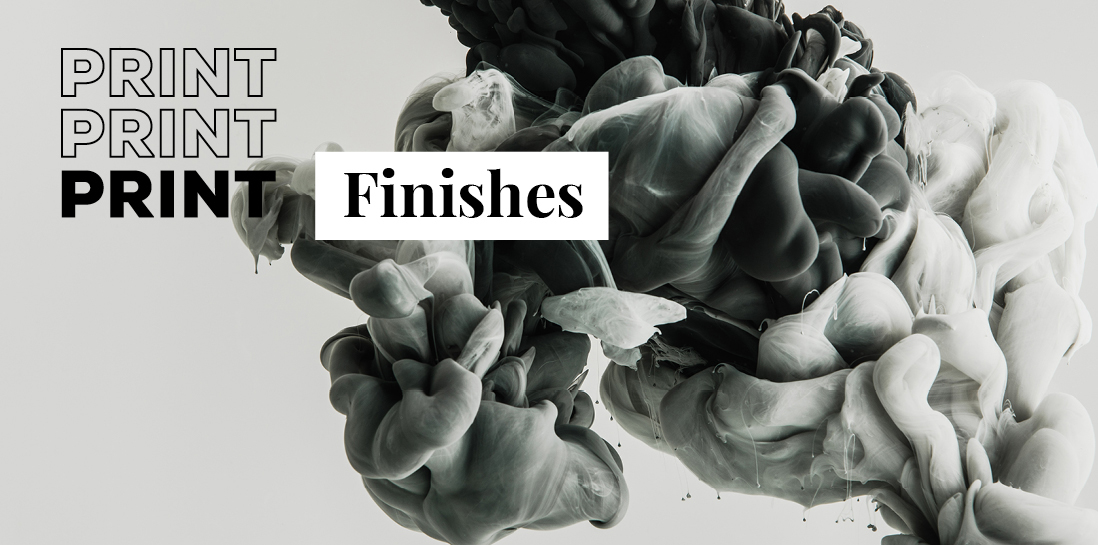 When creating print pieces, we love to consider every point of impact for the intended audience: the moment a suede-textured business card is presented and met with a responding, "Ooooh...", or seeing a prospective client interact with an intricately-folded accordion brochure.
By exploring unexpected formats in size and shape, interactive folds, or a unique paper stock, we can add an unexpected touch and foster a more impressionable client interaction. These techniques, as well as unique print finishes, can have as strong an impact on your finished print piece as the design (and message) itself. Here are some of our favorites to enhance both the look and feel of your design:
1. Die & Laser Cutting
Die cutting involves physically cutting shapes out of your print design with a metal die. This can be as simple as a rounded corner on a business card, or as unexpected as peek-a-boo stripes in the middle of a page.
Laser cutting allows for creating more ornate, detailed shapes. Because the process is digital, laser cutting is perfect for more intricate design elements—like text or logos.
2. Foil Stamping
Foil stamping is the application of metallic or reflective material using either heat or pressure. Foil can be used to achieve a variety of specialized textures, including matte, metallic, glossy, and holographic finishes on light or dark print surfaces. While most people think of foil as gold, silver or copper tones, foil stamping can also create a lustrous, unexpected effect using tone on tone—for instance, a black reflective foil on a matte black print piece
3. Embossing & Letterpress
Embossing refers to raising parts of the page for emphasis and texture, adding a tactile dimension to print design. This print finish adds physical depth to the embossed elements and thus, shadows and highlights are also produced in the design.
Letterpress, also known as debossing, is the opposite of embossing. Traditionally, this technique was used for text as a form of relief printing, but it has evolved to include pressing logos or other elements into the paper without ink as a blind deboss.
4. Varnish & Spot UV
Varnishing is the process of applying a liquid coating to your print piece. A varnish will enhance your design with richer, deeper colors and can be coated as a matte, silk or gloss to seal the paper.
A spot varnish can add texture and interest with a tactile, 3D finish to specific elements of your design surface while leaving other areas untreated. UV varnishes are usually used as a spot application where only specific parts of the piece gain raised high-gloss texture and focal interest.
5. Lamination
Lamination, the practice of applying a thin film to the paper surface after printing, adds texture to a print piece while also providing protection. Most commonly used in gloss, satin, or matte finishes, lamination can also be used to apply a velvet or suede texture to printed pieces for a jaw-dropping tactile impact.
Wondering how to apply print finishes to extend your brand experience? We'd love to collaborate with you.