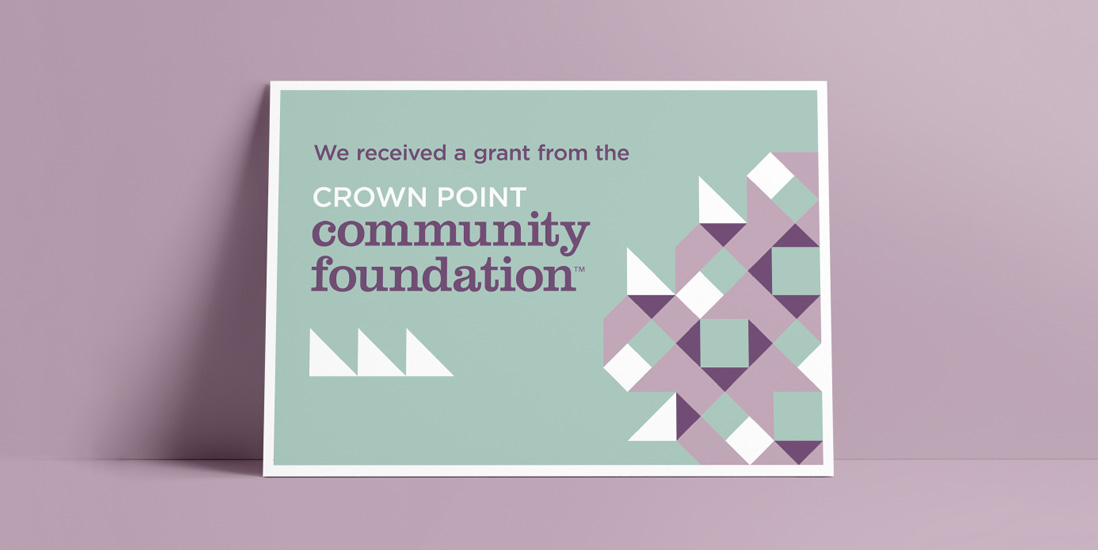 A logo is one of the most important pieces of a brand's identity. It's the face of your organization, often the first impression that your audience gets. You have one opportunity to break through the clutter and visually introduce your brand as relevant and authentic.
Creating a logo that reflects who you are
When the Crown Point Community Foundation came to us in 2015, they had one main objective: create a logo to improve branding and better reflect the true nature and personality of the Foundation. As a regional non-profit, the CPCF works with individuals, corporations, and families to improve the quality of life in Crown Point and greater south Lake County, Indiana. The Foundation is a community leader and convener that works with donors to establish permanently endowed funds, and provide grants for community programs, projects, and needs.
How your values inform our design process
We love working with non-profits! We committed to working closely with the CPCF leadership to serve as an ally, innovator, and resource. We developed a project plan and timeline, with active participation in brainstorming and planning, as well as project organization, project management, invention, and collaborative review.
Excited for our first step in the project, we scheduled a planning and information-gathering meeting. We sat with the CPCF leadership and asked questions about their history, their mission, and values, as well their goals and challenges.
Making a logo feel new and timeless at once
The Foundation's current logo utilized the same torch design element for 25+ years, but had been refreshed multiple times over the last 5 years. They were ready for a change, but wanted something timeless and elegant. They needed to appear approachable to a younger demographic in order to reach a new generation of philanthropists, and trustworthy to those looking to establish estate gifts and endowments.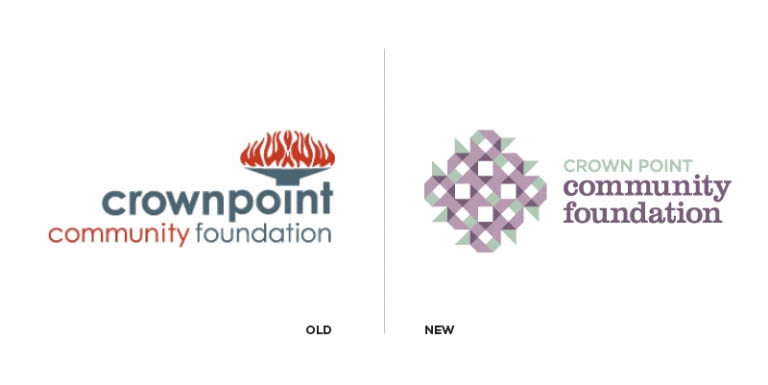 Through a collaborative process, our design team developed a visual language for the Foundation, inspired by art displayed in the Foundation's conference room. The walls in the space were decorated with large, ornate quilts.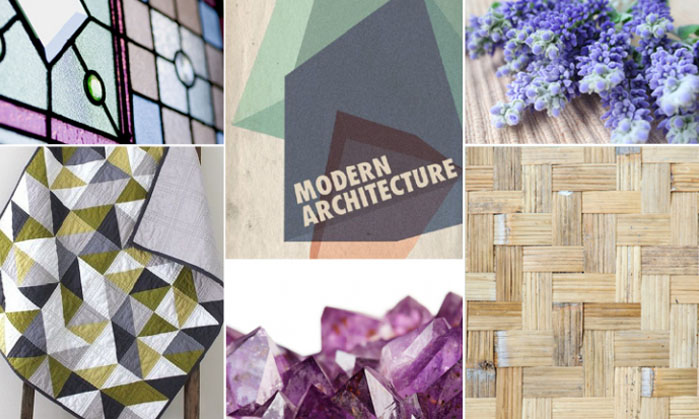 A logo design that represents a legacy
Based on the time we spent in the conference room, we began to draw parallels between the Crown Point Community Foundation and the art of quilting, where a community built on a common thread comes together to handcraft something that provides for, supports, and comforts people. Like the memorial gifts and scholarships awarded by the Foundation, quilts are pieced together with love, creating a legacy that lasts for generations. A quilt is representative of a legacy; every quilt has a heritage. The patchwork design is also reflective of the diverse and harmonious community the CPCF serves.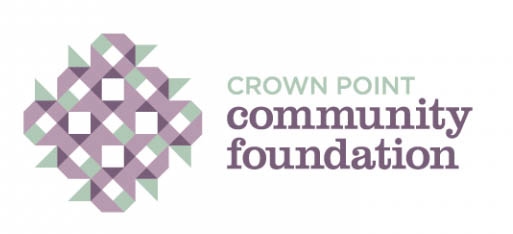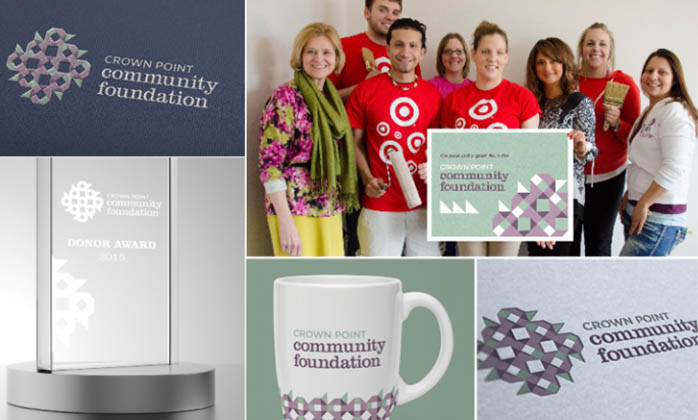 Success through collaboration:
the CPCF's logo wins 2015 GDUSA award
We used our five ways to gauge logo success to guide us in designing and evaluating the logo we made for the Crown Point Community Foundation. We also recognize that evaluating a new logo design is one step in the branding process, and encourage critical analysis and discussion from our clients after presenting initial concepts.
This process of review and evaluation led to the redesigned logo winning a 2015 American Graphic Design Award from Graphic Design USA (GDUSA) in the category Logos, Trademarks + Symbols. We are currently redesigning the CPCF's website, using the logo and the concepts behind it as a foundation. We can't wait to see where the process takes us next!
Rebranding
Learn the results of original research on rebranding in the Rebranding Study.