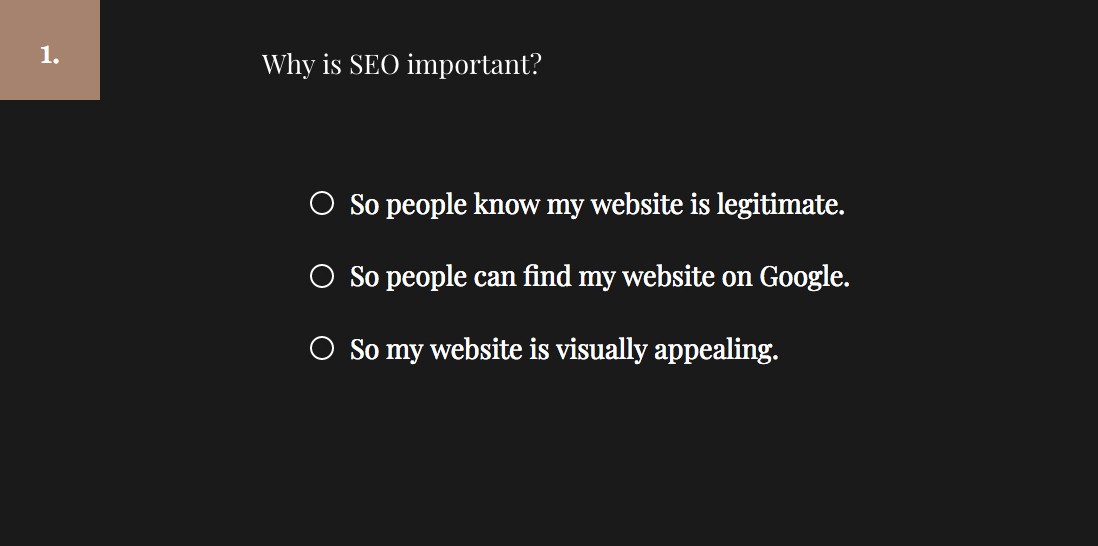 Check your understanding of Search Engine Optimization (SEO) in this quick quiz. You may be surprised what you learn!
Search Engine Optimization (SEO) is the process of getting website traffic from search engines like Google. Each search engine tests your website content to see where in the search results your website should be displayed.
2.
Once my website is complete, I must submit my website to Google in order to show up in search results.
Search engines like Google will automatically "crawl" your website to create an index. Google Engineer Matt Cutts explains it this way: "When you do a Google search, you aren't actually searching the web. You're searching Google's index of the web, or at least as much of it as we can find." If your site is brand new, you can submit it to Google to potentially be found a little faster, but Google will still find it anyway.
3.
Which is better for SEO?
Building out backlinks is important, but it will happen naturally when you invest in quality content on your site. Diverse and relevant links will help establish your website's authority.
4.
Does my website's security status matter to its ranking?
If two websites are otherwise equal in search results, the encrypted site will rank slightly higher than the other. Also, 85% of people will not continue browsing if a website is not secure, according to HubSpot Research.
5.
Higher rankings mean more search traffic.
It is true that a higher ranking means more people will see your website listing, but that does not mean you will get more click-throughs to your website itself. Why? If your meta descriptions are unappealing or you're trying to appear in search results for keywords that are unrelated to your field, users won't always click on your search result.
6.
Should I optimize my photos by adding alt text and file names?
It might be an extra step or two, but it's worth the results. Since search engines like Google can't "read" images, giving the image a file name and alt text helps the overall search ranking of your website. Additionally, image descriptions improve your website's accessibility for users with disabilities.
7.
How are keywords important to writing articles?
Google analyzes key phrases, rather than just keywords. Keywords do not need to be repeated verbatim throughout a piece of content. That's known as "keyword stuffing" and will likely result in a penalization of your website.
8.
The more pages my website has, the more traffic I will get.
While it seems logical that more pages would equal more potential for views, that's not how search engine indexing works. Each page must be full of quality content distinct from every other page on your website (or indexing will omit duplicate pages). As a rule, it's quality over quantity!
9.
Meta keywords are important for ranking in search results.
Google doesn't use meta tag "keywords" in its web search ranking. Meta keywords originally began as a way for Web developers to list out main keywords in the html of a page, but Google and other search engines have stopped the practice in the past 10 years. Instead, search engines read your actual webpage content.
10.
My website has been penalized by Google. What now?
SEO is dynamic—search results are always changing. So if Google penalized your website, you can fix the issue and submit a reconsideration request, and Google will drop the penalty (if the issue has indeed been resolved). Your website might bounce back up to where it as in the search results prior to the penalty, or it could take time for Google to reindex your site.
The best SEO is part of your integrated marketing business content plan. Knowing the ins-and-outs of search engine optimization will help inform your content and, over time, generate better Web traffic to your site.
Need help with SEO? Contact us at info@grossbauer.com.